Scaling and Root Planing "Deep Cleanings"
Scaling & Root Planing or "Deep Cleaning"
When Fetner & Hartigan opened our doors in 1988, we quickly became known for our "minimally invasive" patient-centered therapy. One reason we earned this reputation and continue to enjoy it is because we never forget the basics of periodontal health.
One of the basics is a meticulously clean root, free of bacteria (plaque), calculus (tartar), and toxins which are embedded in the diseased root. Scaling and root planing (SRP) is the technique used to achieve this goal and it is one of the most difficult procedures in dentistry to do well.
Even though this procedure is routine in our office, we never take it for granted. Our dental hygienists all have extra hands-on training in SRP and the latest and highest quality of instruments at their disposal. The doctors have dedicated themselves over the last 30 years to teaching these nonsurgical procedures to hygienists and dentists. That's how invested we are in this essential component of periodontal health.
At your appointment, our registered dental hygienists will use local anesthetic (i.e., Novocaine) to assure your comfort during the procedure. Of course, nitrous oxide ("laughing gas") and other levels of sedation are available for you. Many patients prefer just the "local" because they can return to work or other normal activities immediately after their appointment. For more information regarding anesthesia and nitrous oxide, click here.
Generally the procedure is done over four visits, with a quarter of the mouth being treated at each visit. The appointments last between 1 and 1-1/2 hours each, depending on the severity of the disease.
Patients can expect to be comfortable during the procedure. With the exception of slight temporary cold sensitivity and tenderness, discomfort is rare following root planing. Patients can expect to return to work immediately after the appointment.
Tissue prior to therapy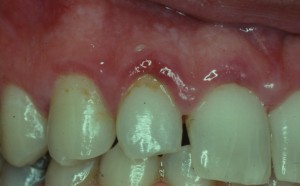 Health achieved with periodontal therapy