Fetner & Hartigan may be "touchy-feely," but we are also cutting-edge with our technology! Our practice is committed to any technology that enhances comfort, safety, and the outcomes of our services.
Listed below are some of the enhancements to our practice:
Cone Beam CT scan
Digital X-rays
Digital scanning impressions
Nitrous oxide
nd:YAG laser (Periolase for LANAP & LAPIP)
Wand anesthesia
Televisions in the ceiling
Dental ultrasonics
Digital panoramic X-rays
Minimally invasive implant surgery
Minimally invasive periodontal surgery
Digital dental photography
Email X-ray transfer to other dentists
Florida Probe® computer probing database
---
Digital X-rays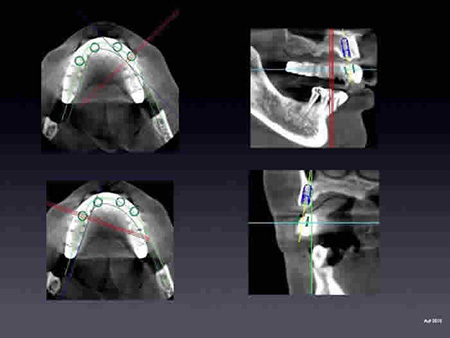 Digital radiography exposes you to exponentially less radiation while giving crisp, clear, and accurate images to enhance diagnosis. The imaging is instant, which saves you time in the chair, too. We can send these images to your dentist via email and the images sent will be as perfect as the originals.
Digital X-rays also help the environment, because they eliminate the need for lead foils and toxic chemicals.
---
Digital Camera
We take a lot of pictures at Fetner & Hartigan! Some are required by your insurance company, but we also use digital photos to communicate with you and your dentist, for teaching purposes, and so we can boast about the great results we get! We love to show patients their "before and after" pictures!
---
Digital CT Imaging
Digital CT imaging systems enable our team to provide quick, comfortable, and effective dental imaging for the most precise dental health diagnosis possible. Digital technology provides 3D data for:
Dental implants
Wisdom teeth extractions
Impactions
TMJ treatment
Full facial and jaw 3D images
You can take advantage of a more complete dental treatment with digital CT imaging. Special features for patients include:
One 20-second scan that provides enough data for a complete diagnosis
A safer diagnosis with less radiation than traditional CT scanners
Increased comfort: patients are seated in an open environment with plenty of space
A more cost-effective imaging system
Doctors can easily share the data with patients, so the latter stay informed and are able to make educated decisions on their course of treatment
Our office is pleased to offer digital CT imaging for patients who receive dental treatment. Come and see for yourself what it's like to receive a more advanced, patient-friendly dental experience.
---
Digital Impressions
No more goop, gagging, or discomfort. Using the latest in digital technology, our doctors can take a highly accurate digital impression of your teeth. The new technology ensures a more accurate impression from the start, and results in improved treatment and a more comfortable patient experience. Digital impressions give you the ability to see your teeth instantly in 3D, which improves communication during the consultation and treatment process.
Our digital impression scanner captures the structure of your teeth and gums using the latest optical technology. The scanner is a compact, hand-held wand. Once the dentist begins the scanning process, it can be stopped and started as many times as necessary.
Your mouth is scanned with a radiation-free laser which, in as little as two to three minutes, renders a digitally perfect, 3D impression of your teeth and soft-tissue structures. Through digital software, you'll be able to follow the progress of the scans, including a three-dimensional model of your teeth on our computer screen.
Digital impressions can be used for any restorative treatment, including crowns, veneers, inlays/onlays, bridges, implants, and orthodontic treatments, including Invisalign®.